Searching... Please Wait.
Joystick Restrictors
Switch your joystick 4 to 8 way with ease
This innovative joystick restrictor mounts to the top of the control panel and is only 3/16" thick.

KEY FEATURES
* Works with any joystick. No longer are you limited to a handful of expensive top-switchable joysticks!
* Switches from 4-way to 8-way (and vice versa) in seconds!
* Cost effective and easy installation for the typical user

With all of the new multi-game boards and arcades available on the market today, there is common problem. These multi-game boards have a combination of 8-way and 4-way games. For example, the 60 in 1 I-Cade jamma board: Ever try playing pacman on an 8-way joystick? The game plays horribly compared to an original 4-way joystick. Most of the multi-game cocktail arcades on the market ship with only a 4-way joystick. Well then how do you play 8-way games that are on the multi-game board such as Wild Gunman, 1942, etc?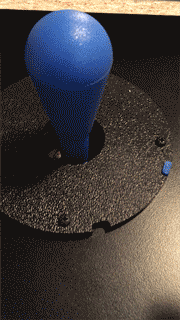 No products have been assigned to this category.

Back